Like4Like
Get real likes from real Instagram users for free! Earn likes by automatically giving likes to other users of Like4Like. It's that simple! Download one of our apps to get started.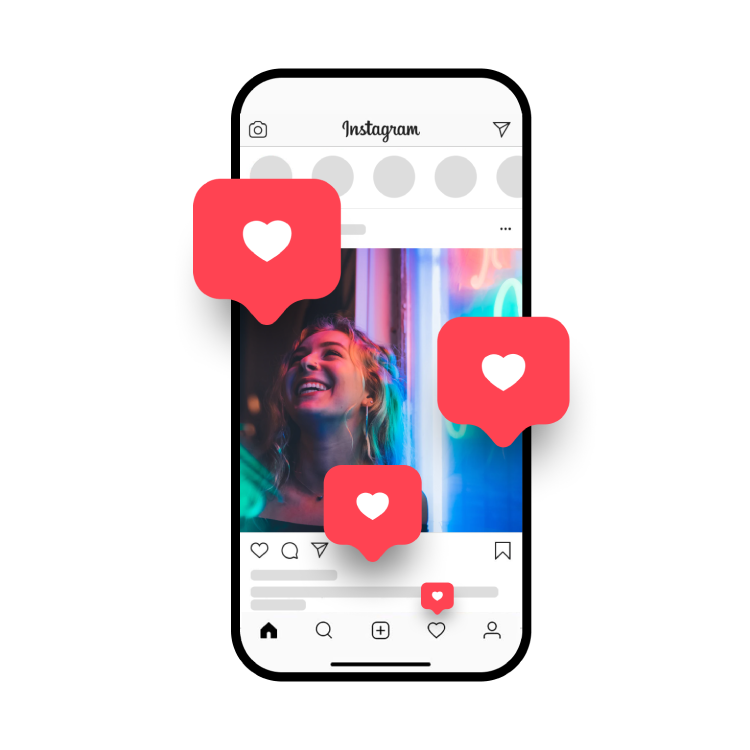 What is Like4Like?
Short answer? A like exchange network! What it actually means is that you will be liking posts of other network users and for each like that your account gives to others you'll get a like that you can then spend on your own posts.
How many likes can I get?
How many do you want? You'll be getting 1 like to spend for each like that you give. As long as you keep your Like4Like app running it'll be exchanging likes with other users automatically and you'll be able to withdraw earned likes whenever you want.

To give you some idea there are users who have earned tens of thousands of likes over the years. Really! We're speaking of people having over 100 000 likes available for withdrawal.
Is this really free?
Yes! All Like4Like apps are absolutely free and we intend to keep things this way forever. There are no paywalls, no hidden fees, no charges for withdrawing, no credit card requirement.

Just download, log in, earn likes, withdraw likes. The apps are available worldwide across multiple platforms that cover most users. How great is that?
Platforms
Available for Windows and Mac as a native app, and even as a web app through any browser. We've got your platform covered.
Recommended
Application for desktop gets all updates first and uses the least amount of your device's resources.
Use Like4Like on the web without leaving your browser. Web version gives you complete control over what you're liking. No password required.
How does it work?
Applications for different platforms have different features and inner-workings, but the idea is the same. You exchange likes with other users of the network automatically and get likes on your posts whenever you want.
Authorize
No registration required! You log in with your Instagram and Like4Like remembers you by your username. Your likes are accessible across all platforms.
Automatically like
Activate liking in your application and sit back. That's it. Your account is now a part of the Like4Like network earning you free likes.
Withdraw likes
Once you decide that you've collected enough likes, withdraw them and see your Instagram post get real likes from real people.
Unique features
Free & real likes
You'll get likes from other users, looking just as good as your own account. We don't allow transfer of likes between accounts to encourage people to use their real account.
Safe and secure
When you authorize your Instagram inside a Like4Like application we do not store your login credentials, or any other credentials. Your password is safe.
Super easy to use
Everything is automated. Once you install the application you can forget about it until you want to withdraw your likes.
1 000 000+ downloads
We're trusted by more than a million people! It makes us very proud to see so many people using our apps.
No registration required
You don't have to go through a cumbersome registration process. Log in using your Instagram and that's it.
Multi-platform
Available on Windows, Mac, Android and as a Google Chrome extension for desktops. We're working on including more platforms as well.
Our Apps
Windows and Mac app
Our app for Windows and Mac app are equipped with the auto-update feature which ensures that you ge the latest stable releases of Like4Like as soon as they are published.
Learn more & Download
Like4Like Web
Latest addition to our clients enables anyone, anywhere to earn free likes. Whether you're on an iPhone or a PlayStation you'll be able to start getting likes right here, right now. Try Like4Like on the web!
To Like4Like Web
Reviews
This is a compiled view of reviews from different platforms such as Google Play, Chrome Web Store and other manually collected reviews.
ITS AMAZING!! this isn't a fake review, it really is an amazing app. you can have it like things automatically so when you come back to the app you can have tons of likes. you do have to log into your Instagram so if you arent comfortable doing that you can't use this app. for the record, I have not been hacked or had any suspicious behavior on my account so it is completely safe:))
This app is really good. Only sometimes it is unable to look for posts to like. The auto like feature is great, it runs in the background and you keep getting likes. Usually this apps collects the likes for you, but sometimes i.e. days it is unable to search for any content to like, so you don't get likes. Rest I would definitely recommend this app.
This is a bloody awesome app, I mean I just had to let it run for over 7 hours in the background and I got over 107 likes, I think in a day, we can get over 250 likes, I didn't even have to do anything ! So cool
Like4Like really helped me so much its such an amazing thing that this website does i have been searching for an app or a website to help me get likes or followers it just has one negative thing that it takes so much time to get like but still it is such a magnificent website thank you Like4Like team !